ETK note: Of course the CIA and spies don't like to do operations unless they have plausible deniability. So there will be another excuse given for each and every encounter….. But when you add it all up….. it's not coincidence, it's stalking.
Friday, March 16, 2019: Coming out to the main road from the beach, a small plane coming from the direction of La Paz flies directly overhead. I am parked. He cuts off his engine as he is directly overhead and then circles and returns toward La Paz.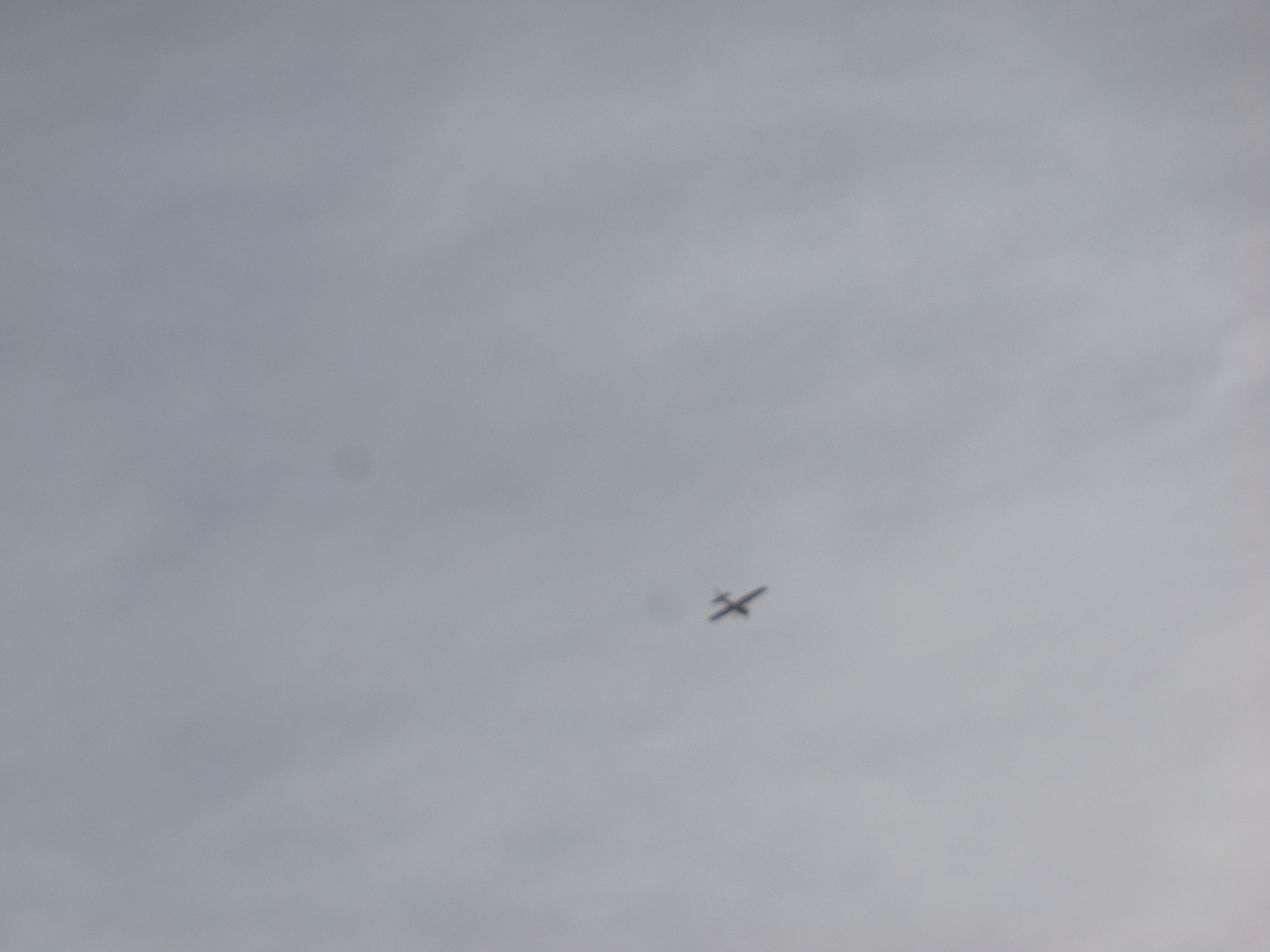 Monday, March 13, 2019: As I was driving from the beach to the main highway, these two yellow helicopters flew over, obviously circling around me at a fairly low altitude. These are the same unmarked yellow helicopters that patrol the La Paz area. Notice that like the small two-seater light aircraft, these helicopters appear to be brand new. Again, presumably they were "donated" or sold at a discount or the Mexican government was coerced to buy these to help fight the phony "War on Terrorism" (gotta have enemies, you know, to justify $800 billion/year to the Dept. of Defense (Death)).
March 11, 2019: Saw small plane fly over at 9:04 am:
Then saw same white fishing boat as in past few days:
Sunday, March 10, 2019: On a quiet stretch of beach where there are usually no encounters with humans on land, sea, or air at all, there were two light aircraft flyovers. The first one flew back and forth directly overhead (photos below) and the second was slightly inland of the beach. A slender American man about 70 years old and medium sized brown dog about 3.5 years old came walking from the west side. This to was extremely unusual, as I have never seen anyone walking this stretch of beach over the past two years. I stopped, waited, and talked with the man- who said his name was Bob and his dog was named Mindy. He seemed pleasant enough, wore blue clothes, said he doesn't talk politics, and volunteered almost nothing about himself. His complexion was quite pale.
Then this same aircraft returned from the other direction (east, La Paz side):
After these flyovers the light aircraft flew westward. Soon a slightly larger, but still lightweight aircraft, flew along the beach slightly inland. Here are a couple shots:
Another interesting day at the beach.
Wednesday, March 6: Driving into camp near one of my favorite beaches in the early nighttime (about 7:30 pm), I was met by a truck with camper coming out the same dirt road at precisely the time I wanted to turn in. The only times I have encountered traffic coming from that direction in the past 2+ years were this particular evening and the preceding 3 days. In each of those days, I encountered a pickup truck coming out as I was going in. Assuming automatic control of nodes with military C4ISR equipment used for military-paramilitary-civilian stalking operations, things like this can be timed perfectly so that the "target's" responses to these provocations/scenarios can be measured in real time.
As I pulled into a quiet spot to camp near the beach, I saw a bright light on the horizon that looked too bright to be a star…. And was stationary and blinked it was over the Sea of Cortez eastward from my location. When I walked around the back of my truck and came back to my trailer door to look, it was gone. But there were two lights of similar magnitude flying slow and low to south near La Paz. Was it a stationary helicopter or a drone?
This morning there were five or six airplane flyovers. Again, there was much more air traffic than normal. Although the first two flyovers (at about 7:15 7:30 am) were too high in the sky to photograph, I did get a couple photos of the last two (below) at about 8:15 to 8:30 am. As I walked toward my a truck, a man with a baseball cap about my age drove by in a new, white pickup truck. Two dogs, one tan, medium-sized boxer-looking dog and the other a smaller black (and white?) dog were barking out the windows at my two dogs, who were unleashed (as I never see anyone on this stretch of beach). The man didn't slow down or say hello, even though he was on a rough road right next where I was walking, but rather said "Fuck," when my dogs responded to his by giving chase to him. He had Alberta license plates. Of course he did not slow down to say hello. After all, the entire point is to intimidate and bully the "target." Here's the Albertan truck:
Here are photos of the latter two (of about 6) airplane flyovers. One can see in the photos, despite the fact they are blurry, that one is a smaller yellow plane and the other is a larger gray-painted plane. I could not see markings on either of them. The others flew even higher up – at perhaps 3,000 feet or so.
Tuesday, March 5:
Three days in a row now, as I drive into my favorite once deserted beach location, this time in the early night, about 7:30 pm, I am met on the narrow one lane dirt road by another pickup truck. This one was a red truck driven by a polite Mexican elderly man. He intitially pulled over to let me pass, and then I pulled over and he passed and said "gracias." Again, I saw the white fishing boat- which apparently was piloted by the same two men.
Sunday, March 3, 2019: I return to the same lonely stretch of beach, where normally there is no traffic of any kind. But recall all the military documents that repeatedly emphasize that they wish to maintain full-spectrum dominance of land, sea, air, space and cyberspace. So it's best to pay attention. Today, there was a small white boat that kept motoring around just more or less out of photo range, to the north of where I was walking on the beach. Nonetheless, I thought it a good idea to get a few photos:
The photos show two men in a boat. One has a bright white sweatshirt and light green baseball cap. Of the six photos I have, most photos show the two men looking at something inside the boat….. I don't believe they were fixing the engine, as I could hear the engine going for the entire duration (one hour) of my walk. The lower photo shows the man in the white sweatshirt fishing. This could be nothing or something. I'm simply documenting what I saw.
March 2, 2019: from about 9:30 to 10:30 am:
This small, apparently new, very high tech (almost certainly American), light, white, 2-man helicopter flew back and forth nearly continuously over my head during my daily walk on the beach. During the first pass in which it came from behind me, it flew quite low; perhaps 50 feet above my head or less. This stretch of beach is normally entirely deserted. My guess is that the goal was to intimidate and harass me and/or to make a show of force and that it was carried out by personnel with an American or Canadian private security firm. Based on my fleeting glimpse, the man sitting in the rear seat, wearing a round helmet and speaking into a microphone, seemed to be a heavy-set American or Canadian (See two photos below). The smaller person (for instance, an 11-year old boy of slender build?) sitting in the front seat may have been operating some kind of tracking or targeting equipment/directed energy weapon (DEW). This light, white helicopter was new on the scene, at least this year. Normally, helicopters which patrol this area and indeed, patrol La Paz as well, are new, yellow and full size; i.e., larger than this light helicopter.
I surmise that America has shared considerable high-tech military and policing equipment with the Mexican government in exchange for their cooperation and their participation, or at least, their permission to allow Americans to run military-police-civilian operations such as this. No doubt this agreement between Mexico and the U.S. relates to NORTHCOM (U.S. Northern Command, which includes the U.S., Canada, and Mexico) or NATO operations and is justified on the basis of the phony "Global War on Terrorism."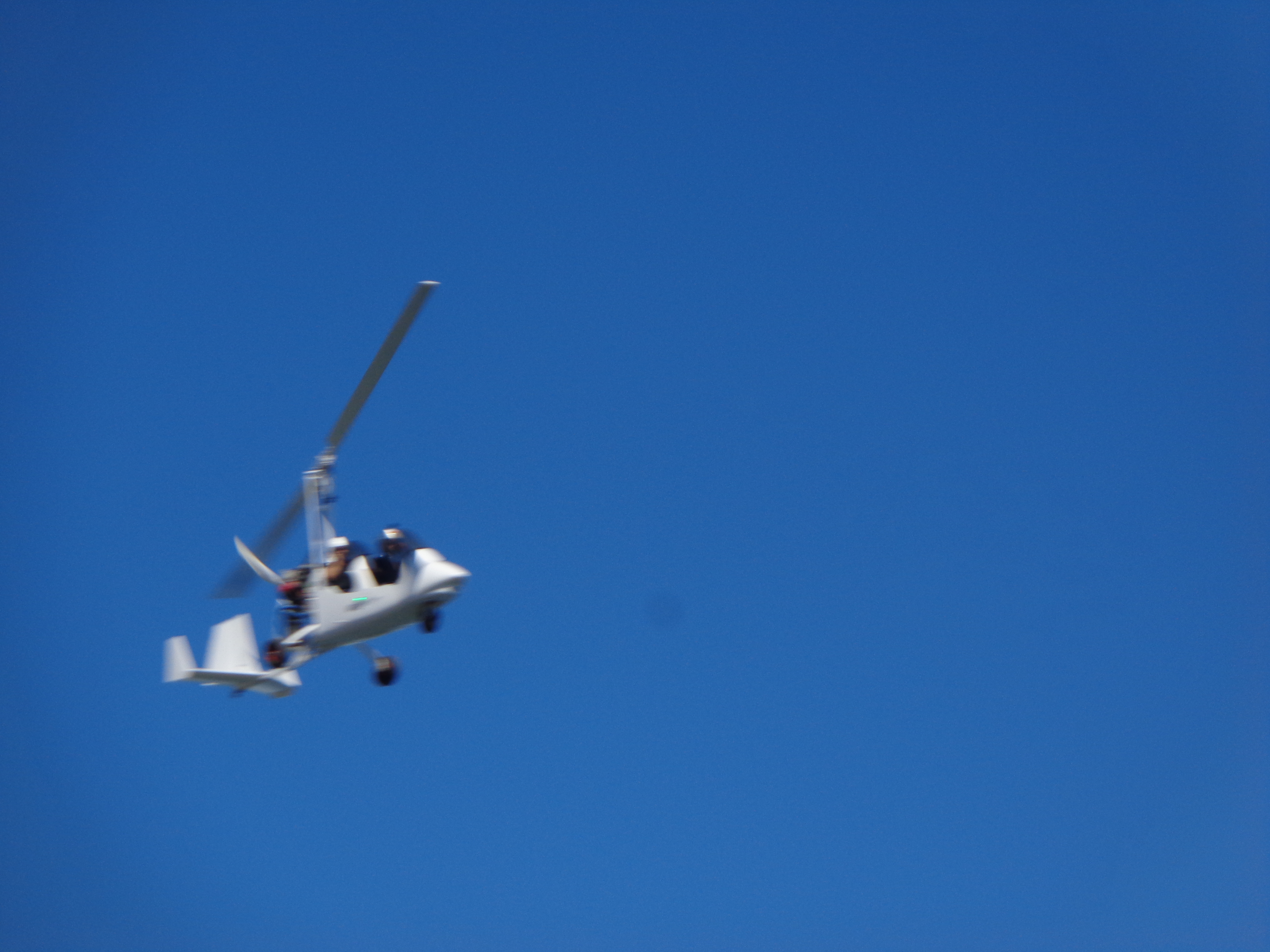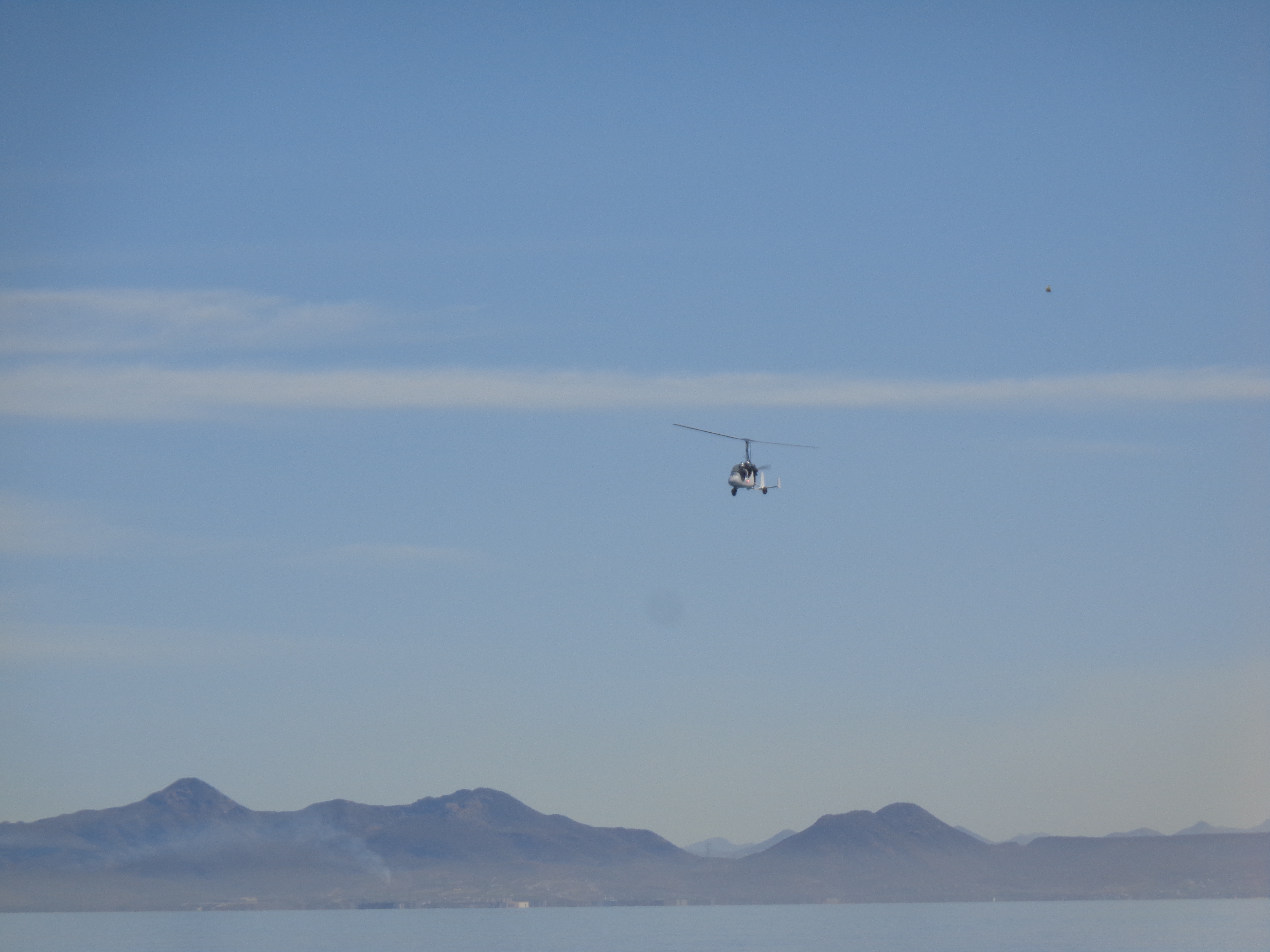 When governments become completely corrupt, their primary mandate is to prevent the exposure of their crimes. Truth is then considered "terrorism." When a corrupt military system controls a nation's economy by virtue of its waste and bloated size, it becomes obsessed with searching out and destroying real, imagined, or created "enemies" in order to try to justify its existence. As for our "brave" special operations forces in and out of uniform, how much courage does it take to do a sneak attack on a lone, unarmed civilian using all the latest military hardware? In doing so, these pathetic cowards and bullies add their names and fates to this larger, anti-constitutional criminal enterprise (in fact, antichrist system). And if they are Americans, by depriving their fellow citizens of their constitutionally-guaranteed civil liberties, they are also violating their sworn oaths and committing treason.
Friday, March 1, 2019: While having a licuado (smoothie) at the small restaurant across from the El Centenario water service (Sapa) office, I asked the proprietress if she knew someone who gave Spanish lessons. She told me about a local lady who lived nearby and said I could get her phone number across the street at one of the city offices. I inquired there and the secretary lady asked me some questions and then finally gave me cell phone number of a local Spanish teacher but told me there was some problem with that idea (I couldn't understand what she said) and that I should come back for language lessons that afternoon at 4 pm.
I tried to call the lady and the number didn't work. So I did go back for the 4 pm lesson…. A note had been tacked up saying free English lessons. There was a young girl waiting there, looking at her cell phone (as almost all do now). A van drove up and the occupants remained inside, until a blonde-haired approximately 11 year Canadian old boy came over to ask me if there were lessons there. I told him I thought so but that the teacher was late. he went back to the van to be with his parents. The teacher (turns out he was a lawyer named Miguel Leon), was about 40 minutes late, but when he came he encouraged me to come inside along with three Canadians (apparently husband, wife and child- (but I no longer assume this to be the case- there are so many stalker-actors now), the young girl and a very young 7 year old girl. The man said they lived locally and he was a missionary and had worked in Iraq and Iran. That set off a few red flags in my mind. He certainly looked and acted more like a special forces operative than a preacher. I left after about 20 minutes as the teacher was explaining the extreme basics of Spanish. I mention this because it is quite possible that this man (and his partner) are part of my general stalking program now. Certainly, the stalking seems to have gotten more intense since about that day.
At least 4 planes and 2 helicopters flew over my head as well. The two helicopters were flying together in tandem directly over my head at about 200 hundred feet. Both helicopters were shiny, new and painted yellow. These types of helicopters are commonly seen flying over La Paz as well. The number of aircraft flying on this day was way out of the norm. The norm is that there is no traffic, human or machine or otherwise, on this stretch of beach.
February 28, 2019: I was standing between my truck and trailer across the street from my house when a tall slender American man about 70ish with a gray, grizzled beard and a baseball hat drove in front of my house with a white Ford F-250 truck that has North Dakota license plates. He stopped the truck and stared to the right into my house, not realizing that I'm standing on the other side of the street from my house and looking at him. He turns to the left, sees me, and quickly speeds off. About 10 minutes later, as I'm driving toward La Paz he speeds by in the truck. The same man in the same truck was in La Paz stopped at a corner as I walked toward the Carnival on the Malecon. Obviously, this man is on assignment. Wonder what he's getting paid?