Appendix 158: NWO/JWO IS SYNTHESIS BETWEEN NEW AGE (CULTS) AND TECHNOCRACY (Amazing Polly, Dec. 6, 2022)
YE REVEALS THE METHOD: NWO SYNTHESIS BETWEEN NEW AGE (CULTS) AND TECHNOCRACY
BOOM! Ye is revealing the method. I go over the symbol that got him banned & the tentacles that come off of it. This is DEEP! Can you support my channel? Click Here: https://amazingpolly.net/contact-support.php
#amazingpolly #kanye #israel #raelians #GreatReset
Webmaster Comment:  Amazing/Awesome Polly hits it out of the part again!   Cults (Judaism/Raelianism, etc.) plus technocracy = Great Reset = Tikkun Olam (Hebrew word for "repairing the world"), that is, UN Agenda 2030 and Antichrist Kingdom.   I especially liked the part about the Jewish Hungarian physicists who called themselves "The Martians."  To tie this in with AmazingPolly's previous video entitled "Save the Jews" (Appendix 157)….
Of course, Rael (Claude Vorilhon), like the leaders of all New Age cults who claim to be gods, is Jewish.  Texe Marrs documents this fact in several books he wrote about the New Age movement.

Epigraph Quote from Comments:
paradism is the life that jews want after they rid the world of all non jews (goyim). If you didn't know, now you do.
think Borg, hive mind controlled by one being.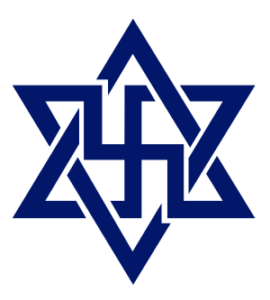 Symbol of Raelism cult movement.  From wikipedia:
Raëlism,[a] also known as Raëlianism or Raelian Movement is a UFO religion founded in 1970s France by Claude Vorilhon, now known as Raël.[b] Scholars of religion classify Raëlism as a new religious movement. The group is formalised as the International Raëlian Movement (IRM) or Raëlian Church, a hierarchical organisation under Raël's leadership.
Raëlism teaches that an extraterrestrial species known as the Elohim created humanity using their advanced technology. An atheistic religion, it holds that the Elohim have historically been mistaken for gods. It claims that throughout history the Elohim have created 40 Elohim/human hybrids who have served as prophets preparing humanity for news about their origins. Among them are The Buddha, Jesus, and Muhammad, with Raël himself the 40th and final prophet. Raëlists believe that since the atomic bombing of Hiroshima in 1945, humanity has entered an Age of Apocalypse in which it threatens itself with nuclear annihilation. Raëlism holds that humanity must find a way to harness new scientific and technological development for peaceful purposes, and that when this has been achieved the Elohim will return to Earth to share their technology with humanity and establish a utopia. To this end, Raëlians have sought to build an embassy for the Elohim that incorporates a landing pad for their spaceship. Raëlians engage in daily meditation, hope for physical immortality through human cloning, and promote a liberal ethical system with a strong emphasis on sexual experimentation.
Raël first published his claims to have been contacted by the Elohim in his 1974 book Le Livre Qui Dit La Verité. He subsequently established an organisation devoted to promoting his ideas, MADECH, which in 1976 disbanded and was replaced by the Raëlian Church. Raël headed the new organisation, which was structured around a hierarchy of seven levels. Attracting more followers, the group obtained a country estate in France before relocating its operations to Quebec. In 1998, Raël established the Order of Angels, an internal all-female group whose members are largely sequestered from wider society and tasked with training themselves to become the Elohim's consorts. In 1997 Raël initiated Clonaid, an organisation engaged in research in human cloning directed by senior Raëlian Brigitte Boisselier. In 2002, the company claimed to have produced a human clone, a baby named Eve, bringing much critical scrutiny and media attention. The Movement has attracted further attention through its public protests endorsing causes such as women's and gay rights and against nuclear testing.
And yet the "amnesty" has still not taken place for anyone but the OGs (original gatekeepers.)

Because Ye is taken way too seriously. He is a musician. He has appeared very mind controlled at times. He showed up with CIA gatekeeper Alex Jones with basically a stocking over his head. How can you take any of this seriously?

Right. So we're to believe AJ was fined a bil+ for Sandy Hook twaddle? (faked to say "looky what can happen?)
eep! Now we've some My Pillow guy now as politician grooming us for next up to bat?

The Social Security and Birth Certificate system turned people in to corporations and issued money to the central banks for their formation. The population goes up, the inflation goes up. One thing I don't think they have done is remove moneys that were issued for corporations (people) who are no longer active (dead). Inflation stops [show more]

Mr. Rael doesn't even know how to present himself in a manner that makes us think we should take him seriously? Or is that intentional? If he just put on a Hawaiian shirt or something, anything that doesn't look like an undergarment, it would make SO much difference in how legitimate he looks. Maybe he wants most people to not take him seriously though?

Symbolism will be their downfall.

Polly, digest this vid https://www.bitchute.com/video/sV4hKGnqAiZ6/ or, at the very minimum watch from 1:12:50 to the end. Then research the Frankfurt School, formerly the Institute for Social Research. In 1933, Germany had a new Chancellor, Adolph Hitler. The school founders, ZJews, elected to move from Germany knowing the new Chancellor [show more]

Polly, you really get to the heart of things. All of humanity need to know this. Thank you.

That is really something indeed. Makes a lot of sense.

Thanks Polly, you are so amazing, and I have to say, there is nobody else like you…

I saw somewhere that his wife did a shoot for Balenciaga covered the exact same way. I assumed he was referencing that.

@Amazing Polly They are both African symbols! "One is As Above So Below" represented by a triangle pointing up "As Above" or the universe (heaven) and "So below" is the idea of bringing heaven on earth! As above so below! It has only been know as the star of David After the 4th century. The other sign is as old or older than the [show more]

TAVISTOCK still in operations , ELON at BURNING MAN … WHATS UNDER BURNING MAN ? Loosh energy stealing …

WHO'S GONNA SEW YOU A NEW Wife-beater Rael?🙄

Carolann 6081….. star of Rephaim [Nephilim connect] + symbol of "spirituality" <swastika> combined into 1 visual expression to match baphomet Duality Theme. "Secret Doctrine" book was on whose nightstand long ago?

H. P. Blavatsky, the swastika or svastika is "most sacred and mystic symbol". It is a pure spiritual symbol. Theosophy [show more]

They're commies, not nazis. Learn your political terms, please.
Rev 3:9 is spot on though. They are the serpent seed of Satan.

They're both perversions of the originals. It's countermimicry. "As above: so below" has been hijacked by new age believers just the same as technology has been by Transhumanists. To better understand what Polly is outlining here, I highly recommend three books:

"Not In His Image" by John Lash [show more

They really want the humans gone.

ANOTHER DEEP DIVE FROM ONE OF THE GREATEST RESEARCHER'S ON THE ALT NEWS AIRWAVES….THANKS POLLY…AMAZING….

excuse me but what? How many Dugin books have you read? He is one of the political greatest strategist of our times. His latest book is called Great Reset vs Great Awakening. In that he argues nominalism directly leads to all the social engineering, transhumanism and ultinmately the cease of humanity. He tries to unite all fractions [show more]

But, no one needs Dugin for a Goddamned thing. Leave races and historical lands that are Europe, Scandinavia, Ireland and such alone. White people have worked out their differences for 10's of thousands of years. The real problem are the Jewish central bankers and their Ponzi scheme of usury. Dugin doesn't look at that, does he? [show more]

No. He is still wearing Balenciaga…

Yeah, it's a great video. So rare to get this density of information with so little filler.

thank you Lansaidwords – I might have that book here at home (I get sent a lot of books so I forget some of the ones I have!) I'll have a look

thesis
1. A proposition that is maintained by argument.
2. A dissertation advancing an original point of view as a result of research, especially as a requirement for an academic degree. [show more]

Yes. The clue is in the word 'Ashkenazi'.

1Chronicles 1:6: "The sons of Gomer: Ashkenaz, Riphath, and Togarmah". The appellation Ashkenazi comes from the great-grandson of Noah, Ashkenaz, who is believed to have migrated to the region known today as Poland. It has nothing to do with the word Nazi which was coined by a Jewish journalist in the 1930's as a pejorative derivation [show more]

lol *sigh* if you go back and watch that part you'll see that I actually stopped and changed the word I used because I *KNEW* someone would 'correct' me. I mean.. grow up.

I meant to pick up the 'as above so below' thread but the vid got long. There is so much more I wanted to say! Thanks for putting it in the comment section. 🙂

I believe Ye did this on purpose. Songwriters understand puns (the synthesis of two or more meanings in one word). Ye knows a lot. He may be scattered — or should I say poetic — in the way the ideas come out, but IMO he is as true a Christian as you can get. Is "Ye" itself shebollah? (sorry, spelling; do i even have the word right) Is Rael –> Isreal???

Poly adheres to indoctrinated history of Jews. The real truth is Christians are the Hebrews and the Jews the troublemaking Edomite/Canaanites and their adoptive Ashkenazim.

Isra-El is Hebrew for God rules.

think Borg, hive mind controlled by one being.

Do not be fooled Tinkler2, it's good to understand these things but watch what you follow. Everything that is good is within you. Emmanuel (one with God) Our Father is written in your DNA.

I'm not disputing that, however there is always more to knowledge to discover. Why don't you watch the video first then you will overstand why I said what I did

She is Generation-X numb-nut.

when I hear anyone in a group say humankind I am out.

Possible, but a guess is still a guess

Good episode, Polly. You look lovelier than ever.

Mars is Herukhuti and it is the war god/ colors purple/red 5 sphere in the Kabbalah. His day is Tuesday.
He has two swords across the chest. (maybe not swords but something of the like). I study these, then I grew wise! The only God that we need to worry about is Our Almighty Father in Heaven Yahuah. (Emmanuel) God is within us. [show more]

···

View all 5 replies from Amazing Polly and 3 others

View all 3 replies from Amazing Polly and 2 others